The Great White Throne Judgment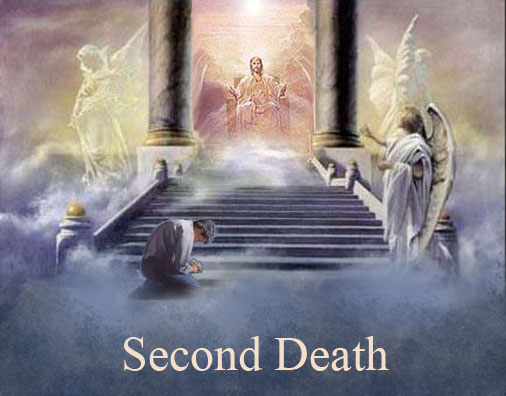 This scene has got to be the most heart rending scene in the whole Bible. There are no believers here at this Judgment seat of Jesus Christ. This is a closed private session for the THEM. And close by is the Lake Of Fire, where the Devil, Beast and False Prophet are. This is a place of torment forever and ever. ( Why even mention this place if it doesn't exists ) Jesus talked about this place in the parable of the "Richman and Lazarus".
Jesus set the criteria for seeing the kingdom of heaven. He told Nicodemus,"You Must Be Born Again". He also said, "My sheep hear My voice, and I know them, and they follow Me; and I give Eternal Life to them"
The only reason for the audience given to these is to show them why they are going to be thrown alive into this Lake of Fire which burns forever and ever. These are the "Them" which have no place in the Kingdom of Heaven.
Those nailed scared hands turn page after page of the Lambs Book Of Life and nowhere can be found the defendants name.Why it burns forever and ever is so they will feel every agonizing moment of Eternal Death. I firmly believe these people will remember every snikering rolling eye "your just a Conservative Christian Jesus freak" remark. And those who have persecuted the Body of Christ called Christians. John (The Babtist) refers to the believers as the Bride of the Groom (Jesus Christ) before the Chuch was even born.
While this scene is happening we who are enjoying Eternal life are probably wondering where is Jesus? And a thought flickers by, and we realizes what His delay is. He is the Groom and we the "The Body of Christ"called Christians are the Church.
Blessed are they which are called unto the marriage supper of the Lamb.
Take a look at Rev. 20:11-20:15
020:011
And I saw a great white throne, and him that sat on it, from whose face the earth and the heaven fled away; and there was found no place for them.
020:012
And I saw the dead, small and great, stand before God; and the books were opened: and another book was opened, which is the book of life: and the dead were judged out of those things which were written in the books, according to their works.
020:013
And the sea gave up the dead which were in it; and death and hell delivered up the dead which were in them: and they were judged every man according to their works.
020:014
And death and hell were cast into the lake of fire. This is the second death.
020:015
And whosoever was not found written in the book of life was cast into the lake of fire.